This technical report, 'Extensive livestock farming and climate change: an in-depth approach' compiles and organises an intense shared effort to address the role of grazing in adaptation and fighting against climate change. The report collects up-to-date technical and scientific information about greenhouse gases behaviour in pastoralist systems, their emissions, their relationship with grazed ecosystems, their coping capacity and their potential to mitigate the effects of climate change.
The report is free and can be downloaded by clicking here, The original Spanish original report also can be downloaded here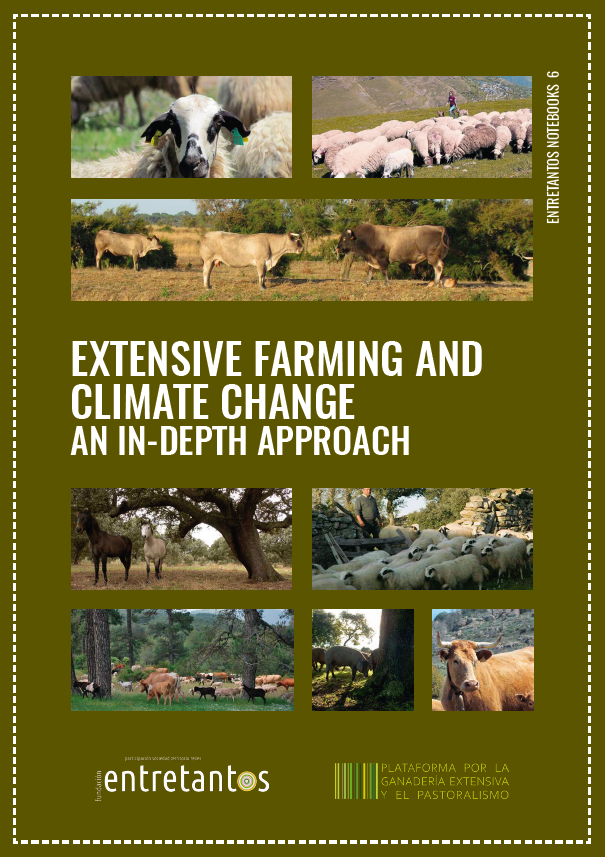 Geared by collaboration, the intense work to produce this report started by a series of internal debates, held on our Platform, about the climatic role of pastoralism. Those debates successively incorporated several experiences, scientific papers (some of them signed by the people involved in the discussion), innovative practices (drawn from the daily experience of farmers dealing with climate-derived problems), and policy proposals, all of them sharing a global vision: the need to radically change, at both scientific/technical and political level, the current vision of the relationship between climate change and extensive farming.
The richness and value of the ideas brought into this debate encouraged us to present them in the past COP25, celebrated in Madrid. This presentation was also organised in a collaborative way, in a round table where simultaneously were participating researchers, activists, advisors and, last but not least, farmers. After that presentation, the next challenge was transmitting and disseminate these ideas to facilitate the adoption of this new perspective, especially among people and organisations working around pastoralism, livestock, agriculture and food. Hence, the initiative of publish and distribute this report.
The report organises old and new ideas, all of them solidly founded on science. It is a technical report, indeed, but edited in a more comprehensible and accessible way, separating the main ideas from a collection of complementary resources. This way, whether the main text is formulated in an accessible dissemination approach, the report includes several boxes, which describe (and link) scientific papers and technical reports, both in English and Spanish. These complementary materials, allow readers to establish a rationale and elaborate discourses. Summarising, the report aim to unravel the enormous potential pastoralism deploys to make food production safer, and more sustainable, under the current climatic scenario. Moreover it depicts its solid contribution to our adaptation to, and mitigation of climate change.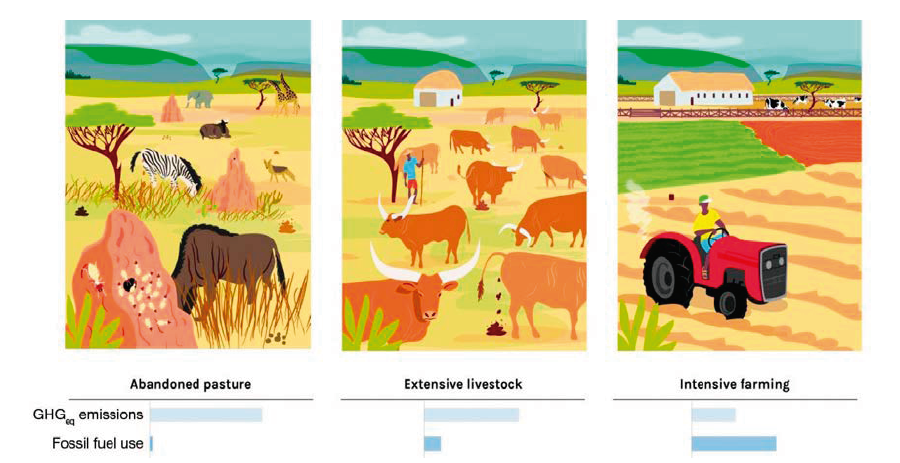 The technical report 'Extensive livestock farming and climate change' can be downloaded here
The Spanish original report is presented in this page, and can be downloaded here: Ganaderia extensiva y cambio climático
Please follow and like us: